Vinyl & Linoleum Flooring


About Vinyl Flooring
When is vinyl my better choice?
Vinyl or resilient flooring is a great choice for every room in your home. Especially when you are sticking to a budget.
Today's Vinyl (resilient flooring)
No wax vinyl has had many innovations in the last decade. Cutting edge print technology creates a variety of realistic-looking designs that replicates wood, stone and other natural materials. And, if you are into solids, you will be delighted by wide range of colors from white and black to varying shades of beige, red, brown, green, blue, gray and many more.
An amazing combination of beauty and function, vinyl is durable, easy-to-clean and can be installed anywhere in the home. It's an especially good choice for high-traffic areas such as kitchens and playrooms, or wet areas such as bathrooms and laundry rooms.
Vinyl resists scuff, gouge, stains and spills making it perfect for household with children and pets. Some even offer an antimicrobial protection which guards against stains, mold and odor-causing bacteria on the surface~while others offer added cushion core for underfoot comfort and warmth. Unlike tile or hardwood floors, that soft comfort means you don't have to worry about household accidents like dropped glasses or cans.
Caring for a vinyl floor couldn't be simpler. Regular sweeping and occasional mopping will keep your vinyl floor looking like new. Many manufacturers offer vinyl floors with warranty options beginning at 5 years and extending to a lifetime, based on the specific product you choose.
Vinyl flooring is available in sheet, tile and plank options
I really love the look and the low maintenance of a vinyl floor, but do not know what style to buy.
Each style has it's advantages and disadvantages. You selection depends on where you intend to use and how you will install the flooring.
Should I buy sheets, tile or planks?
The difference between the three types of vinyl depends on where it is to be installed and if you intend to do-it-yourself or have our Buy Low professionals install the vinyl floor for you.
If you are using vinyl tiles, the existing floor has to be level and have no irregularities, otherwise a sub floor has to be installed over the old floor in order for the tiles to adhere properly. All Buy Low tiles are glue down. Some of our tiles can be grouted which gives them the appearance of ceramic tile and others offer square edges/ends which creates a smooth and nearly seamless appearance. Vinyl planks interlock and virtually float over the original floor making it the perfect choice for over existing flooring. Others glue down over a sub-floor.
Sheet vinyl is is available in wide rolls of six or twelve feet and, when installed, is virtually seamless. However, it is the most difficult to install as it is clumsy to handle, requires a templete before cutting, and adhesive has to be applied to the sub-floor.
Buy Low will be glad to give you an estimate for a professionally installed any style vinyl floor that will give you years of enjoyment.
What's a Vinyl Remnant?
What is the difference between a remnant and custom ordered vinyl?
Nothing is different in the quality of the vinyl. The difference is in the price!
What's a remnant?
As part of the Buy Low promise, we stock a huge selection of top-quality vinyl remnants in designer colors and styles, offering customers greater savings and value. Remnant are not blemished or flawed in any manner. Remnants are perfect portions of carpet previously cut from a roll that is exact in every way if you had ordered custom vinyl. Buy Low buys hundreds and hundreds of perfect remnants from many manufacturers at a huge discount. We pass that discount on to you, giving you an extraordinary high-quality product at a super low cost!
Remnants come in roll of 6' to 16' wide and are available for immediate installation in your home.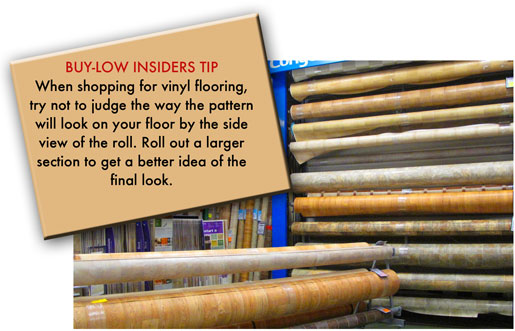 OUR PROMISE~ The lowest prices on the brand-name flooring you love & expert installation within days!